Table of Contents
Overview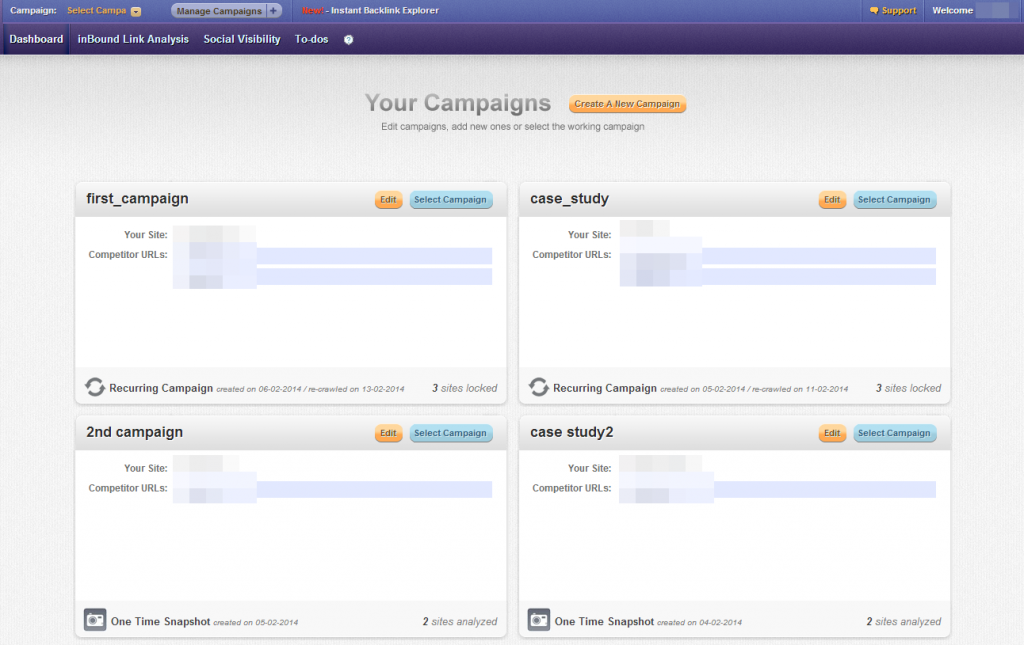 Manage your campaigns

When you enter into your account, on the top of the dashboard you will find several features from which you can choose. You can manage your campaigns just by hitting the Manage Campaigns button that you can find on the top of the page.
Selecting a campaign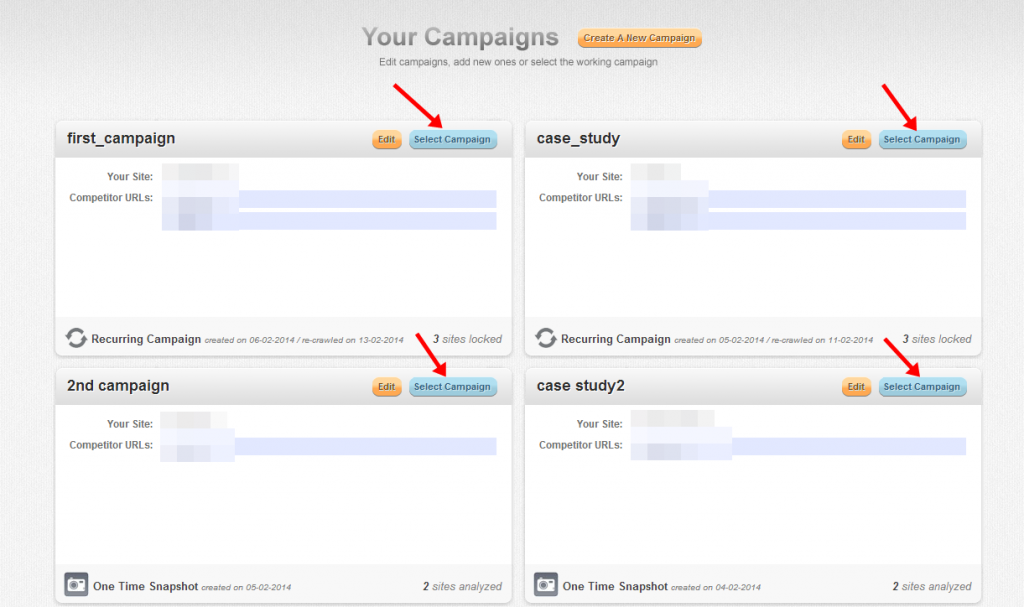 All the campaigns will be listed on your page. For each campaign, you can choose to edit or select the campaign.
You can select a campaign by pressing the Select Campaign button. Once you select a campaign, the button Selected will appear on that specific campaign. All your analysis will be made based on the selected campaign.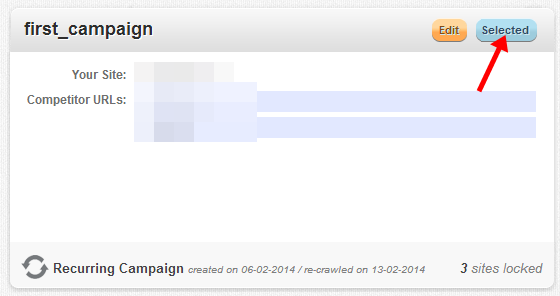 Editing a campaign
If you want to edit your campaign, just press the Edit button. Once you've hit this button, you'll have several options of editing your campaign. All your changes will be processed only after you press the Apply changes button.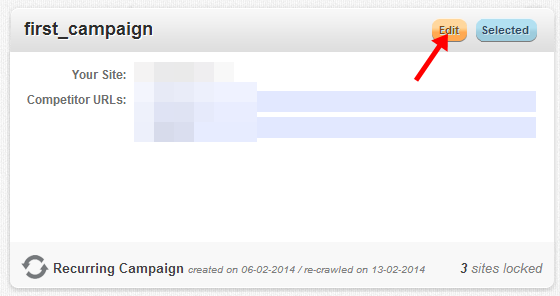 1.Your website
Your website category, from the left sidebar menu, allows you to see information about the site you chose to analyze. Once registered into the campaign, your website cannot be changed or deleted.

You can also look into Advanced Options. By choosing this option you can analyze specific sub-domain URLs. Also you can run the analysis by analyzing imported links only. If for instance you want to analyze just a segment of a website's link profile or if you want to create a campaign based on Google Webmaster Tool link data, you can do this by simply uploading that list of links.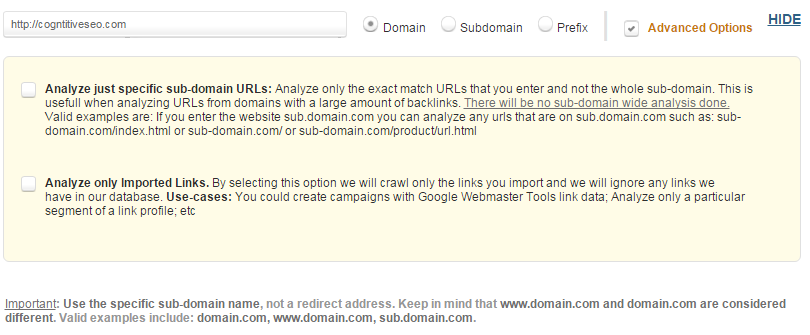 2.Competitor website
You can Delete the competitor's website. "Deleted" means that the competitor's website will be completely pulled off your analysis. You can also add more competitors by pressing the add button positioned on the bottom of the page.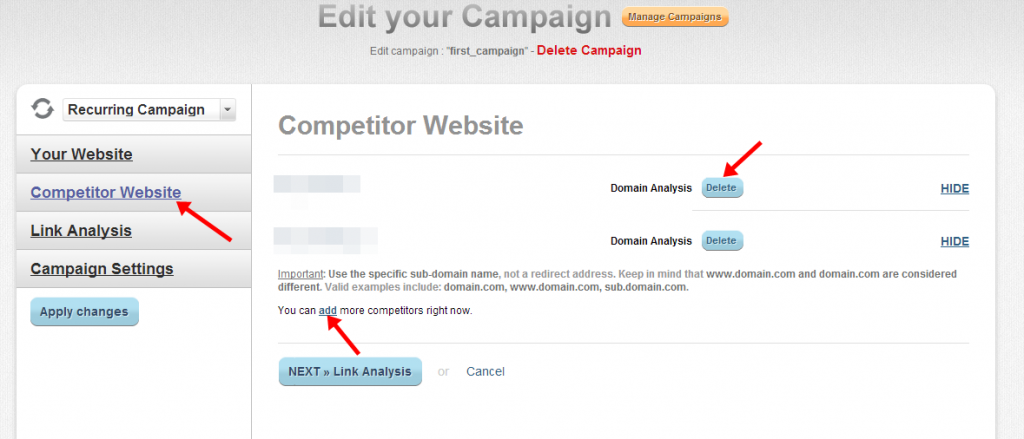 3.Link Analysis
On the Link Analysis category you can choose to analyze a range from 1 to 20 Side-Wide inBound Links per referring domain. This analysis will exclude inbound links that appear multiple times on the same referring domain.
You can also choose to exclude all internal links that are coming from various sub-domains of the main analyzed domain. For instance, if you entered domain.com, all the inBound links coming from www.domain.com or sub.domain.com will be excluded from the analysis.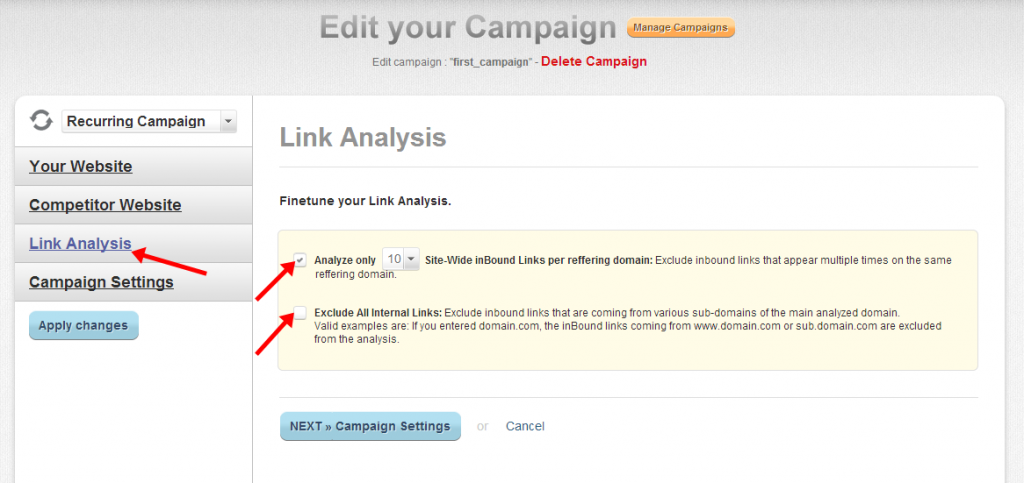 4.Campaign settings
On the Campaign Settings sector you can enter a name for your campaign or you can change the existing one. As mentioned before, all your changes will be applied only after Apply changes button is pressed.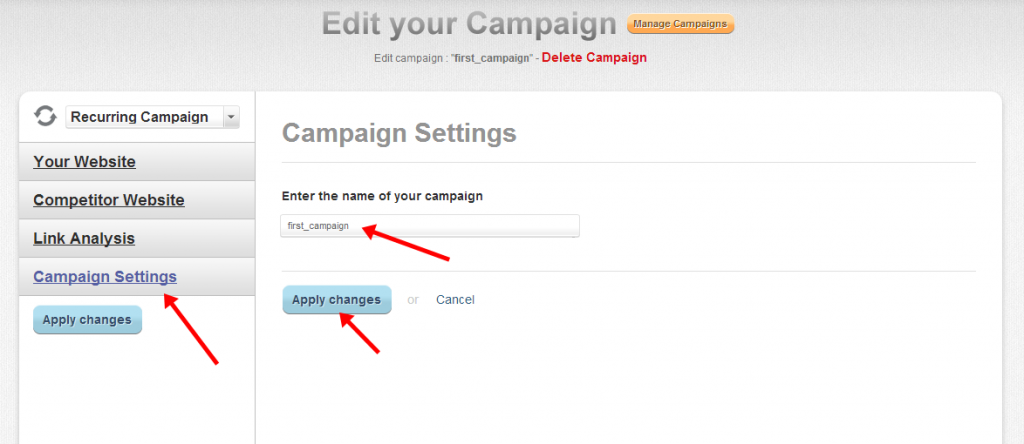 5.How to switch from One Time Snapshot Campaign to a Recurring Campaign
Switching a One Time Snapshot to a Recurring Campaign is easy.
a. Go to the manage campaign

b. Go to edit campaign
Once you click the Manage Campaigns button you will be presented with the list with all your campaigns. Click the Edit button on the Campaign that you would like to switch to Recurring Campaign as shown below: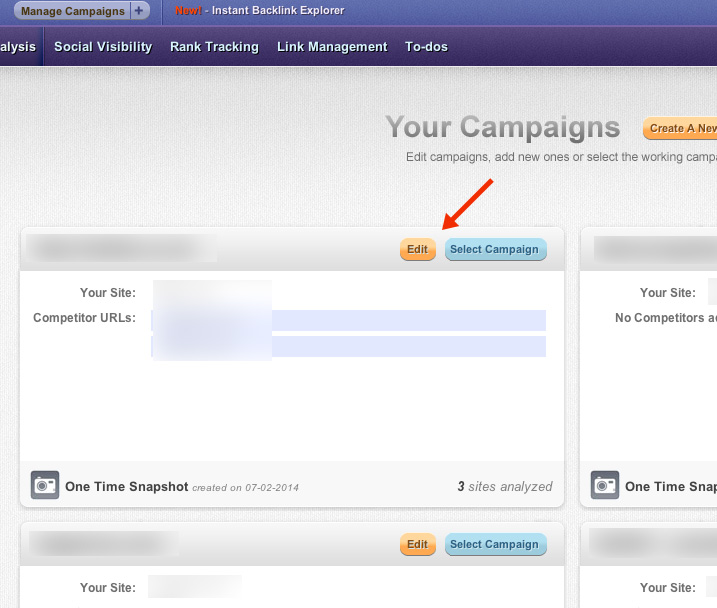 c. Switch to recurring campaign
Once you did this, just select Recurring Campaign in the combo-box and then hit Apply and your campaign will be switched to Recurring.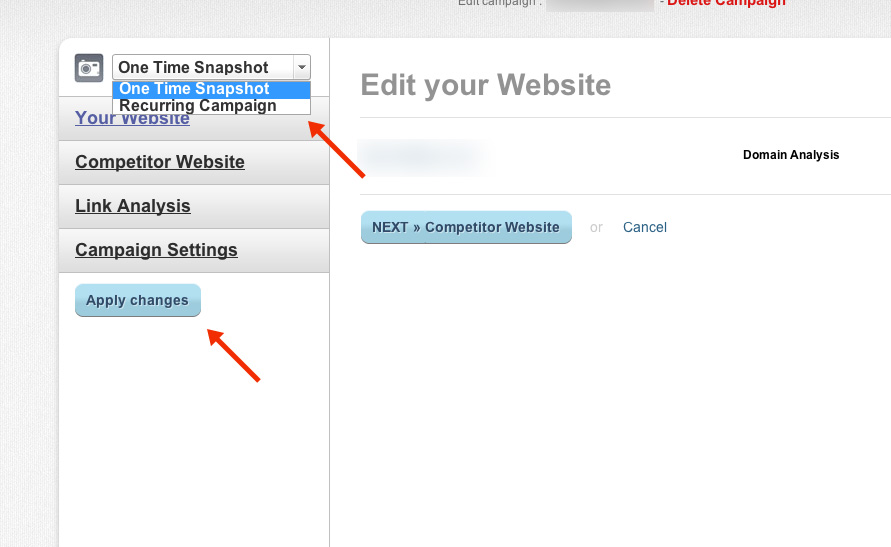 Important
If the campaign that you are switching from One Time Snapshot to Recurring was a Recurring campaign previously then it will have all the data until the moment it was switched to a One Time Snapshot. That means that any crawled links and rank tracking history will be there until that moment.
Changing a One Time Snapshot to a Recurring Campaign will have new data only from the moment it was changed too a Recurring. For example if the campaign was a One Time Snapshot that was run 4 months ago and you switch it to a Recurring Campaign you might not have a complete view of the new links that appeared in that period of time.
Deleting a campaign
You can delete your campaign by hitting the red Delete Campaign button. When you hit the delete button, a dialog box will ask you to confirm this operation by writing "confirm". By confirming, you accept that all data will be lost.  You need to know that deleting the campaign will not reset any used sites. The sites will be reset on your next billing day.

Number of locked sites 
On the dashboard you will be informed about the amount of sites remained to be analyzed on the current month. Based on your pricing plan, you have a certain number of sites assigned to you each month. The number bellow indicates you the number of sites you can still analyze, while the rest of the sites are locked for your current campaigns.